세미나
Korean IT Personnel's Night Out
2010-06-30 14:07:09
IT leaders gathered on the night of June 24 at the Press Center in Seoul, Korea. The Korean IT Professionals Association and Korea Software Industry Association and 10 other organizations co-organized the 24th "The Night of IT Personnel" and approximately 120 IT people including Lee Kark-Bum, Chariman of the Presidential Council on the Information Society and Park Chan-Mo, President of National Research Foundation of Korea were present to commit to developing the IT industry in Korea.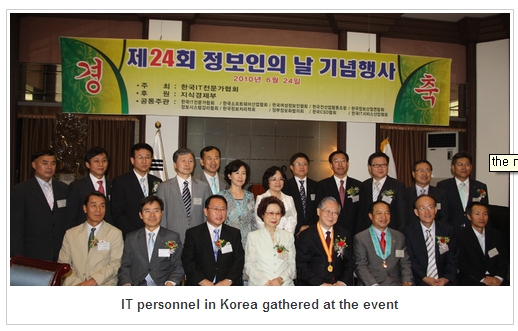 The event was started by host, Choi Sung, Professor of Nam Seoul University. Cho Sung-Kap, Chairman of IPAK (Information Technology Professional's Association of Korea) thanked people who were present by saying that "Korea is the IT powerhouse and the reason why it could be the power of IT is because of the effort and cooperation of all the people present today."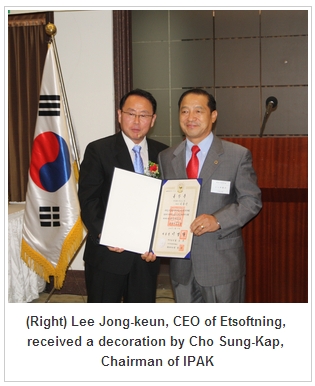 After the greeting by Chairman Cho, Kim Young-Hwan, Member of the National Assembly and Chairman of the Knowledge Economy Committee said that "About 10 years ago, we stood as the IT powerhouse by building up the broadband, developing semiconductor and adopted the Internet fast. But today we need to strive more to be the real power of IT." And he emphasized that Korea needs source technology, creative SW and a system for developing talented programmers to lead the IT industry for the world.
Cho Seok, Deputy Minister for Industry in the Ministry of Knowledge Economy, followed after Chairman Kim Young-Hwan. He stressed that "High valued hardware and localization of IT equipment and raising IT talent are necessary for developing the IT industry and mostly, the cooperation of the people who attended today is an important key for the development."
After, a ceremony of awarding prizes proceeded for contributors. Lee Jong-keun, CEO of Etsoftning, conferred a decoration and Ahn Young-mi, Professor of Sungkyul University, Kang Jae Hwa, Director of Information and Statistics Division in MLTM (Ministry of Land, Transport and Maritime Affairs) and many other people in the IT industry got thanked for their hard work.
In addition, the commission appointed by the director of the jury in the '22nd Korea Software Contest' also commissioned plaques, the Korea Software Contest is the largest and best SW competition in the nation.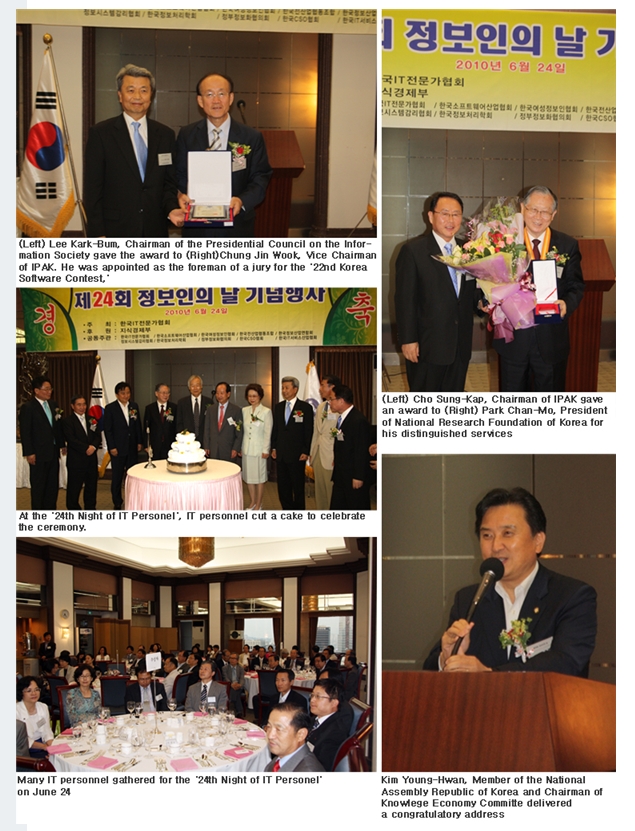 Friday, June 25th, 2010
출 처 : KOREA IT TIMES
주 소 : http://www.koreaittimes.com/story/9455/korean-it-personnel%E2%80%99s-night-out